Have you signed up for the CrossFit Games Open yet to be a part of our team?  Come on and sign up!
*NOTE: It is impossible for your score to 'hurt' our team.   At the end of each week, the top 3 male and female scores for each workout will count toward each team's total, so if you don't score well on a WOD, it won't 'hurt' the team.  What have you got to lose?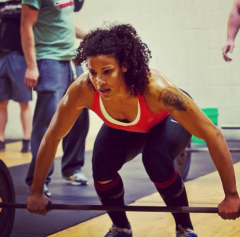 "My plea to CrossFitters who are on the fence about signing up for the Open: Do it! This is me, #CrossFit Games Open 11.1, snatches and double unders. Less than 3 months into CrossFit, terrible at double unders and as evidenced by this picture I didn't even know how to set up for a snatch. Do it even if you think you're not ready! You will be challenged. You will improve. You will grow from the experience." – Elizabeth Akinwale (2012 CrossFit Games: 7th place)
WOD 02 26 13
A.  EMOM (10 min) : 2 Power Clean (start @ ~75% 1RM PC)
B. 3 Rounds: 
1 min ME Strict Pullups
Rest 1 min
1 min ME Strict Pushups (Adv: Hands & Feet on 45#)
Rest 1 min
1 min ME "Over the Parallette" Burpee (not facing)
Rest 1 min
Post loads, reps, and comments.
Welcome to our newest Elements graduates: (From L to R: Geoff, Kara, Rob, Byron)