WOD 11 13 12
We will be heading into another strength cycle so let's collect some baseline data!  The more accurate the data, the better the results.  For big lifts, get within (+/-) 5 lbs, and for lifts like the press, try to get within (+/-) 2 lbs.
A. 40 minutes to establish a
1RM HBBS*
1RM Press
Max set of unbroken Pushups (resting at top is ok.  The set ends when your knee hits the ground).  If you can only perform a few reps, so be it.  We are baselining your current state.
B. 3 Rounds for time:
Row 500m
21 KB Swings
12 Burpees
*Note: before reading, please put your ego far away from your computer.
The squat is THE FOUNDATIONAL MOVEMENT in what we do, and your back squat needs to look like a perfect air squat.  To review, the four requirements of a basic air squat are:
Chest up (lumbar in extension at the bottom)
Knees tracking over toes (parallel angle)
Weight on heels
Parallel or below (Hip crease below knee cap)
If you can't air squat with these four points of emphasis, you have no business loading a barbell on your back, no matter if you got a little ego pump from the number you got to put on the whiteboard.  We need perfect full ROM air squat before loading a bar.  If you have been air squatting like this, get it fixed.  Your coaches will uphold this standard for quality movement and will help you figure out how to improve your form.  [End of rant.  It's safe to go retrieve your ego now.]  Sadly, there is a lot of poor information on the internet because the image below was pulled from a simple google search of "air squat" and this picture was used on a random fitness site to demonstrate a correct air squat.  *I have no words…*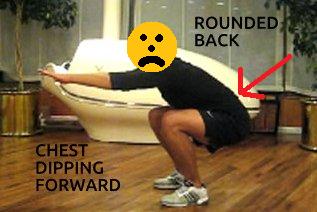 Here's another video to review the air squat:
Post loads, times, and comments.