This page contains some feedback of why our members have decided to make us their primary source for all of their fitness needs.  Whether your goal is to lose weight, change your body composition, or be more confident overall, CrossFit RTP can help.  We will make working out fun again!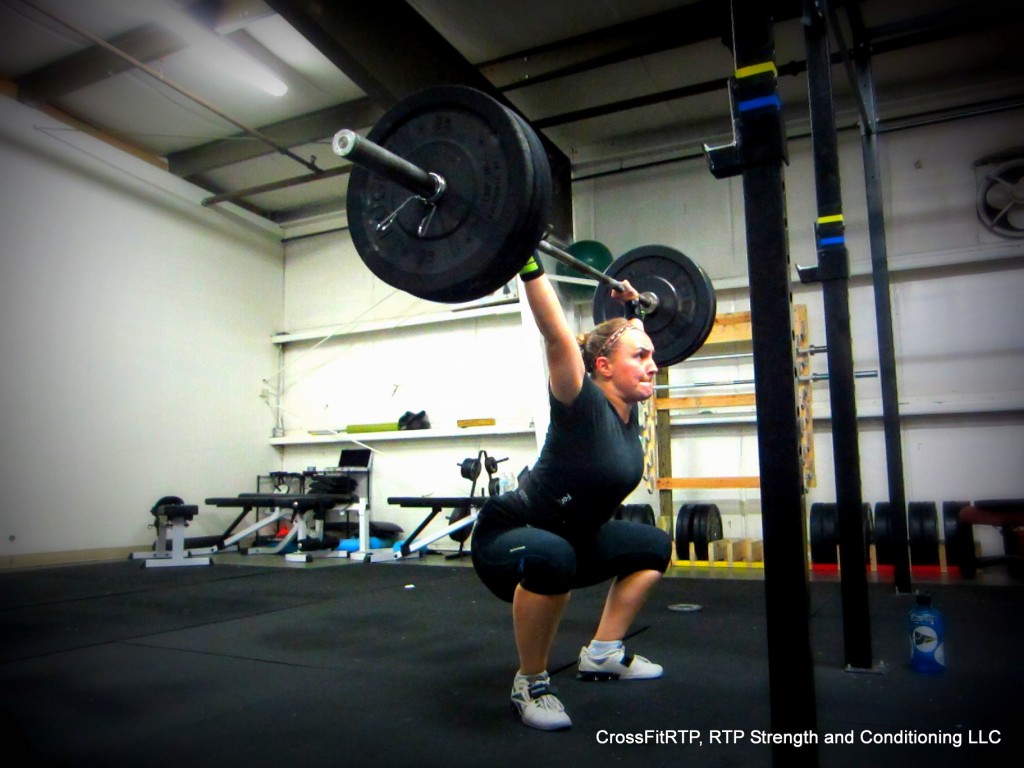 "CrossFit RTP is more than just your typical gym, it is a community of wonderful coaches and people. I have been a member since they opened their doors in October 2011 and have seen it grow into a top notch gym. I was new to CrossFit and have seen so many positive changes in my health and lifestyle since joining. All of the coaches are amazing and give you personalized tips and instructions to help you reach your fitness goals." – Julie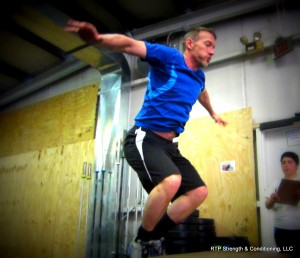 "If you really want to be fit, the CrossFit is the way to train. Strength, cardiovascular conditioning, agility, balance, and flexibility are all rolled into one hour of intensive work that will leave even seasoned gym rats out of breath. It is challenging for any level of athlete but can also be scaled down for beginners — basically, there is no excuse. Much of the CrossFit experience is dependent on the coaches, and CrossFit RTP has an outstanding, knowledgeable coaching staff. They push us to work as hard as we can, but I never fear that they are pushing me to a level where I might get injured. The bottom line for me is that it made going to work out fun again." – David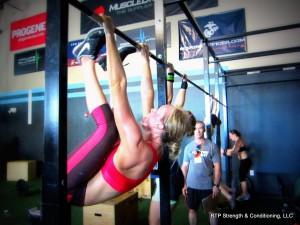 "I started the crossfit program 17 months ago and I'm a fully committed member on a 5 day a week schedule. I'm active in the crossfit community and familiar with the coaches, programming, and structure at many of the other affiliates in the triangle area. What makes CrossfitRTP stand out is a commitment to coaching excellence and passion for programming that is meticulously designed. The programming is intended to challenge and advance both the beginning crossfitter who may or may not have a desire to reach an advanced level as well as develop a seasoned athlete. This is no easy task and often a topic of great discussion in other boxes. More complex than following the crossfit mainsite, it takes thoughtful insight into who your clients are and an acknowledgement of their goals but also familiarity with strength and conditioning from other disciplines outside of the Crossfit model. As an experienced crossfitter intelligent programming is of utmost importance to me and in my opinion unsurpassed at CrossfitRTP.  Anyone who has worked with the owner knows that his standards are high and enthusiasm for turning out a great "product" over quantity is unrivaled. This is evident not just in the programming but also in the selection of coaches who represent CrossfitRTP. The entire coaching staff is above reproach. Each coach is experienced in Olympic Weightlifting, Gymnastics, and Nutrition and are all high caliber crossfitters in their own right. As a beginner or regular crossfitter you will meet your fitness goals under the instruction of these coaches." –Dallas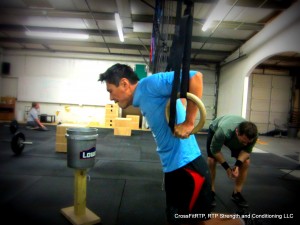 "I can't say enough good things about this gym.  I use the word "gym" loosely because for those not familiar, crossfit is radically different compared to any gym experience you have had to date.  Crossfit classes are one hour long which fit nicely into my overly busy schedule.  Classes start with some active stretching (running, rowing, etc), followed by work on a specific movement or skill (this can be a gymnastic based skill, power lift, or Olympic lift).   This is followed by the workout of the day or "WOD" which is a combination of different movements at high intensity that will push you to your limits (in a good way). To those already familiar to the crossfit concept, I wanted to say a few things about the RTP box specifically.  CrossFit RTP was recommended to me by a couple who migrated from another crossfit box.  The reason they were so enthusiastic about RTP was one reason- THE COACHING.  While there are many great features of RTP, I would have to say that coaching is near the top.  Coaching is one of the most important aspects of training, and every single one of the RTP coaches is top-notch.  They are all extremely patient and knowledgeable.  I think one of their strongest assets is not just having the knowledge, but being able to transmit it in a useful/ meaningful way, so that a relative newcomer like myself finds it helpful.  There is time for plenty of individual observation in a particular class, and this feature is particularly nice.  They emphasize safety first, and have been able to scale down any movement that was too heavy or difficult for me or my wife.  At the same time, they constantly push me to keep moving forward so that I don't stay stagnant at a certain fitness level.  Also, the coaching is not just limited to what goes on in each class.  They offer feedback via an online community forum.  I also appreciate the thought that goes into designing the class programs.  Each class is not simply a random strung together group of exercises, but rather a smaller piece in an overall larger program designed to achieve the maximum results. The second biggest asset (and it's a close second) that RTP has to offer is the RTP members themselves.  When my wife and I joined 4 months ago, we were instantly accepted into the RTP crossfit community.  And it really is a community.  People knew our names after only a few workouts, and we felt "a part of" almost immediately.  What has also been wonderful about the experience is the sense on camaraderie among all the athletes.  The competition in the box is always friendly in nature, and seeing my neighbor working hard only inspires me to work that much harder.  I have been able to cheer on fellow members as they are working through a routine, and have also had the extra boost of adrenaline that comes from being cheered on by a roomful of people. If I had to summarize the RTP crossfit experience in one word, it would be caring.  I know that this sounds like an odd word when describing a gym, but I think it fits.  The coaches AND the members all care about each other- both on a personal level and especially in helping an individual to achieve his/ her maximum athletic potential.  I know I sound like a paid salesman, but I'm not.  This is just how strongly I feel about crossfit in general, and the RTP box in particular.  Hope this helps anyone considering joining up. PS- I am in the best shape of my entire life!!!" – Mike 
 "I've visited several crossfit boxes across the U.S, and Crossfit RTP was one of the best "visitor" experiences I've had. I was a drop-in at the Wednesday 6:30 class, and had a great time with the coaches and members. Lei led us through a great WOD, and everyone took a few seconds to introduce themselves and make me feel welcome. Thank you RTP for an excellent experience and workout!" -Thomas  
"My roommate and I had a prior AWFUL experience at another Crossfit box and friends recommended coming to RTP after that. The coaches at RTP are phenomenal… they genuinely love Crossfit and it really shows. The location is convenient and the box itself is open and inviting. If I weren't moving, this would be my box of choice. Durham/Raleigh has a TON of boxes, but this one is overall the best. Thanks RTP!!!!" – Kristin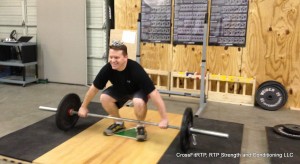 "I started working out at RTP a little over a year ago, and over the course of 14 months I've lost about 20 lbs, I've become the strongest I've ever been in my life, and I've made some pretty cool friends in the process. As other reviews have mentioned below, it all starts with the coaches. RTP's coaching staff is indeed knowledgeable and supportive, and they won't let you slack your way to a goal. They stress form, quality of movement, and push you to new heights of fitness in a way that I haven't experienced prior to coming into the RTP gym. Complimenting the coaching staff is a solid approach to programming (daily workouts). Daily workouts are constantly varied and sequenced towards intermediate and long-term goals. So it's not just a cut-and-paste from other sites, rather, it's a thoughtful and planned progression towards an end product. That's a big plus, in my opinion. Lastly, I can't stress enough how much the other gym members contribute to the quality of the gym. The people that workout at RTP pull for each other, keep you honest and focused on form and time, and help each other towards goals. They are your biggest competitors during a MetCon, and your biggest champions when you're done – it's a great combination. Plus, outside of the gym at social events, they are all great people to grab a beer with, or a paleo-friendly alternative when necessary. In a nutshell – Great Coaches, Great Programming, Great People, Big Success. I recommend checking out RTP for those interested in finding a high quality CrossFit gym with a proven track record of results." -Troy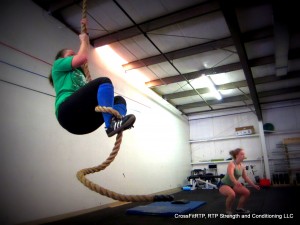 "Awesome coaching and community!! This gym is full of positive people who encourage and push each other everyday!" -Maggie
"Crossfit RTP has the best coaching!!! I have been Crossfitting for a year, made great progress then plateaued. I asked around for help and Lei Fei, owner and coach, of Crossfit RTP delivered. Lei designed a strength program for me and in one month I am hitting PRs again. My technique on lifts is SO much better than ever before. The entire staff at Crossfit RTP has been remarkable!  Thank you all for helping reach my goals." -Donna
"Crossfit RTP rocks!!!! There is no other place where I can find coaches that are dedicated to helping you meet your goals while making sure that you will not injure yourself. I have been crossfitting for over a year but haven't been as consistent as I would like to be. Regardless of where I am at in my ability, I am never nervous that I am going to be judged for not being as strong as other people. The coaches are so great at making modifications so that I get the workout that my body needs. I always leave the gym so happy that I gave it my all." -Alex
"It is an outstanding gym. Everything you can hope for… great coaching: caring, detailed oriented, encouraging and extremely professional. Awesome community: everybody is happy to be there, to cheer each other on. Love it!" –Claudia
"I have never been one to enjoy working out at a gym, but since joining CrossFit RTP I can't stay away. I started two months ago and worked my butt off, but strangely felt happy and eager to do it. That hasn't happened for me since I stopped playing sports after high school. The community feel makes it the kind of place you want to be, not just for work outs, but for a sense of camaraderie and well-being. On top of that, the coaches are well trained and focused on form and safety, so I always felt comfortable as I was pushing myself to my limits. This is overall a great place to be, both for beginner and expert CrossFitters alike." -Ian
     IMG 0272 from RTP Strength & Conditioning on Vimeo.
"I started CrossFit about 18 months ago and plateaued. I wasn't making much progress. I knew Lei had started a new gym in the area, so I went to CrossFit RTP for help. He asked me about my lifts, my times for the benchmarks, and my nutrition and made a plan for me to compete in a local CrossFit competition. He went over my form for all the major lifts, corrected my faults, and I have already started to see gains in <2 weeks. I highly recommend CrossFit RTP, as the other coaches are top-notch as well. After the competition, I plan on working with Phil to increase my Olympic lifts. Thanks CrossFit RTP!" -Matt
"Crossfit RTP is fun and super motivating. Best part – coaches! They stress form when doing the lifts, which is very important to me since I don't normally lift heavy weights. In just one month I significantly improved the amount of weight I can lift as well as my form…The trainers keep it professional and always challenge you to better yourself. Overall, I highly recommend you check this place out if you want to get fit and have fun doing it." – Natalia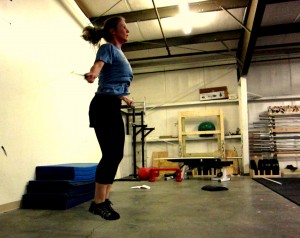 "CrossFit RTP was my box for almost a year. It was a home away from home. I became stronger than I've ever been because I was encouraged and empowered by amazing coaches and fellow athletes. As athletes we were trained through strong programming and individualized instruction while engaged in group personal training. If CrossFit is a community in Raleigh/Durham, then RTP is the home for you." – Lori
"I joined CrossFit RTP over the summer to kickstart my fitness and learn proper technique for basic lifts. Two months later, I can happily say that my strength has improved considerably and I feel much more comfortable performing technical lifts. What I didn't expect to find, however, was such a vibrant, supportive and cohesive community. The coaches are fantastic as well as the other gym members. Each workout was unique and expertly run. I never felt myself stagnating or plateauing as I have in the past and I looked forward to the workout every day. If you are considering Crossfit – I highly recommend joining this gym. The mental, physical and health benefits are well worth the cost!" -Nick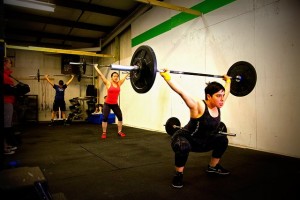 "I joined CrossFit RTP one year ago and I have never regretted it. It has been a great experience. I have learned a lot, done things I have never thought about doing or thought I could do, and have met some amazing people. Coaches and members are very helpful and encouraging. Saturdays are the best because it is usually partner workouts! If you are thinking about doing it I'd say definitely try it!! It's just fun!!" -Lorena