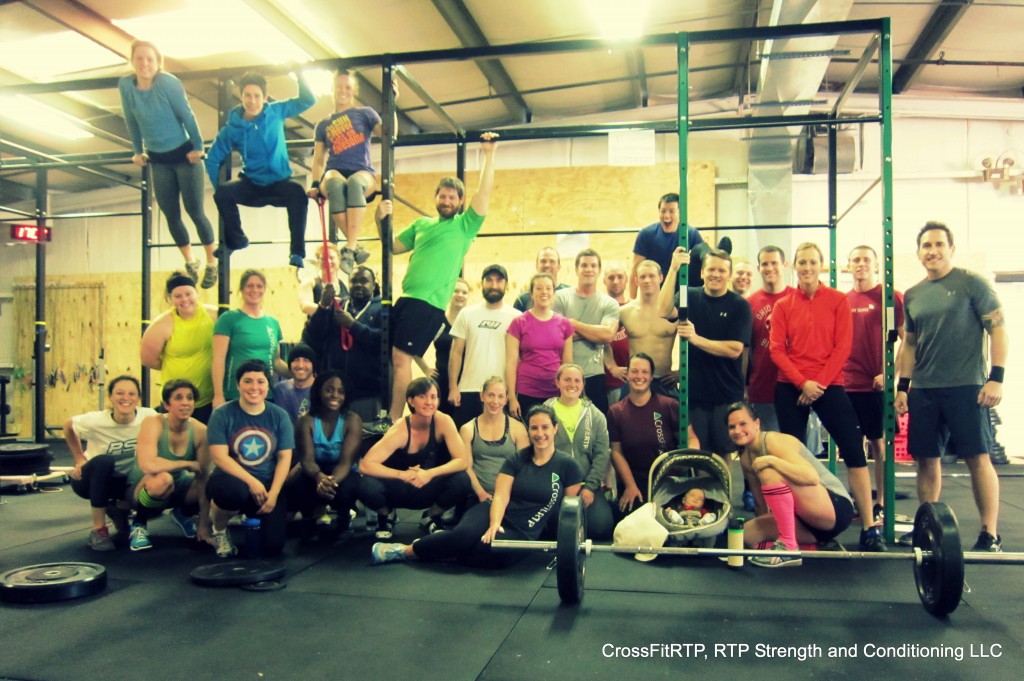 CrossFit RTP is a strength and conditioning facility focused on developing elite fitness levels in people from all walks of life.  We accomplish this through executing constantly varied functional movements executed at high intensity.  We are located in Research Triangle Park (RTP) in Durham, NC at 4909 S. Alston Ave. near the corner of interstate 55 and 54 in a 6000 sqft, air conditioned facility.  We are minutes away from I-40 (exit 278), conveniently located to serve Durham, Raleigh, Chapel Hill, Cary, and Apex.
Our program delivers a fitness that is by design, broad, general, and inclusive. Our specialty is not specializing.  We believe that the needs of Olympic athletes and our grandparents differ by degree not kind.  We combine various elements of gymnastics, weightlifting, high intensity cardiovascular conditioning in ways to maximize the results for our athletes.  Our firefighters, engineers, homemakers, and (former) couch potatoes have found their best fitness from the same regimen.  CrossFit RTP produces world class athletes, healthy habits, and independent able bodies.
How is Crossfit RTP different from your regular gym?
Let us warn you.  When you walk into our gym, you will not see any treadmills, magazines, or televisions.  You will, however, see plenty of hard work, dedication, and true fitness.  We train hard at CrossFit RTP.  We train harder that the vast majority of the population believes they are capable of.  Because we train hard together as a unit, we forge a special bond among our athletes.  Together, we humbly grow as a unit both mentally and physically.  Our community is our greatest asset.  We have zero tolerance for egos, bad attitudes, or attention seekers.  However, we welcome everyone who is willing to put in the work and making a choice to get into the best shape of their lives with open arms.
At CrossFit RTP, we take you on the most rewarding fitness journey of your life.  It will be filled with sweat, chalk, and most importantly, results.  The best part is that you will not be taking the journey alone, as you will be surrounded by a supportive community every step of the way.
We provide the best coaching in the area.  Our coaches challenge you to prove us wrong.
Continue reading in our Common Questions.